I can't believe we are 6 weeks into 2014! It's been another bitterly cold week – lots of below 0°F weather. It's been blowing or snowing every other day.  We've been working in the house and shop a lot!  Here are my pics from week #6.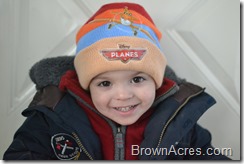 Brett was bundled up ready to play outside for a little while. It was around -10°F. We went from the house to the shop! Lots of work for a 2 minute walk!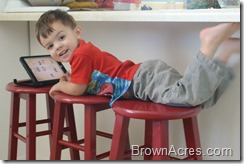 This is somehow a comfortable position.  Brett was having fun with an iPad while I was making dad his favorite chocolate cake.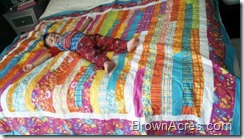 I made this quilt for our daughter Kayla.  This was my 2nd quilt project since starting last year, but I just completed it.  She turned 20 today!
The boys and I went swimming with friends.  Brett only went down the waterslide once since it shot us right under the water at the end.  He was understandably leery after that! He's going again on Friday. I hope he's not scared of it!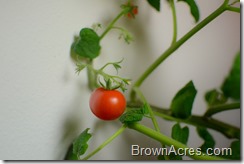 We have our 1st tomato on our Aerogarden plant!  It's a little hydroponic garden.  There are many more tomatoes to follow.  We love getting fresh tomatoes in the dead of winter!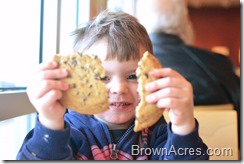 Brett enjoyed a big chocolate chip cookie after lunch.  I think it took him 20 minutes to eat it!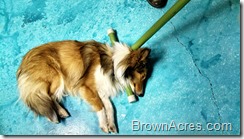 Sadie couldn't take it anymore.  She stayed up too late waiting for me to finish sewing.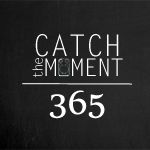 For more information please visit: http://www.behindthecameraanddreaming.com/p/catch-moment-365.html