I meant to get this done sooner but something always comes up. I wasn't going to do such a long post but this is also our family memories of 2013 and want to be able to look back.  It's been a crazy year for us.  Our harvest seemed to go on forever.  We were still harvesting corn on December 17th!  The guys worked all night harvesting to finally get it done.  The combines pulled into the yard at 8 a.m. The corn had high moisture and it seemed to snow every other day.  When an opportunity arose to harvest the corn they decided just to get it done!
We were able to take a much needed break for Christmas, which we all enjoyed immensely.  It's funny how there is this perception that farmers have all this time off in the winter.  That's not even close to reality.  Even during the rest of the year it's pretty hard to take a day off just to go somewhere for an afternoon.  Where we live going anywhere generally means the whole day is consumed by it.  We enjoy every break we get.
January
We made a quick trip out to Wisconsin to look at a camper for harvest.  We didn't buy it.  The boys had fun checking out Marty's tractor and we enjoyed some warmer weather.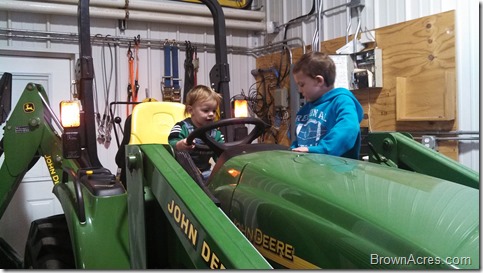 We also celebrated Brett's 2nd birthday!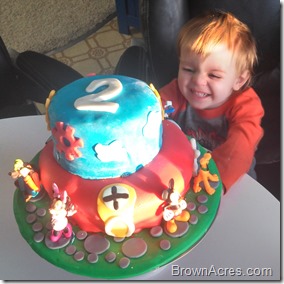 February
The family bought me a sewing machine for Christmas and I have a new hobby!  I took a quilting class and have had lots of fun with it.  I just wish I had more time for it.  The bird one was my first project. I made both blankets for our granddaughter.
The guys built a dog house for the girls with leftover materials from our shop.  It will be insulated and has a power source for a heat lamp & water in the winter.  It will be very nice and toasty for them.
March
We had some big projects happen in the shop this year too.  Mick and the boys put a lot of hours into a Peterbilt we bought.  The sleeper came off and lots of parts were replaced.
I painted the office in the house since Mick moved all of his office contents to the shop office. Here's a before and after look.
It's not completely done.  I would like to add some shelves for storage. Right now I'm using what we have but it could be better.  I'm hoping to build some shelves if I can figure out exactly how to arrange them. I would also like to add some framed pegboards on the walls for sewing & office miscellaneous. The room has changed dramatically for just the cost of paint.  I took the carpet out since I sew in there – it is not fun finding a pin in carpet!  We have heated floors so it's not cold just hard but I generally wear shoes if I'm on my feet a lot.
I found an acid wash technique I really wanted to try.  But, after talking with both a Sherwin Williams and a Benjamin Moore dealer decided not to.  I found an alternative. I used latex paint in 2 colors and finished with a topcoat of polyurethane.  I applied 2 coats of the lighter turquoise.  Next I poured the darker color in random areas of the floor.  It pooled up and made some neat effects as it dried.  This part took the longest.  I kept adding to it each day until I was happy with the results.  I used a matte polyurethane for the top coat so it wasn't too shiny.  The window faces southeast so there is a lot of sun entering the window all winter.
It has held up pretty good in the year that it has been done.  I think if I did it again I would maybe do 4 coats of polyurethane just for the extra durability.  My kids are hard on things and there are a few spots the paint has chipped off where they slide chairs across the floor.  They now have felt pads on the bottom but of course it was a little too late.
We had water in our basement fall of 2012.  Cleanup & repairs turned into a big project with sheetrock replacement, paint & new carpet.
Of course Mick thought he'd be funny & left a message on the wall for me.  It previously said:  Music washes away the dust of everyday life away.  He calls me Big E.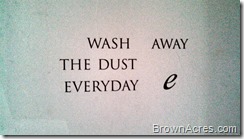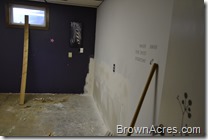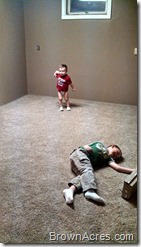 The boys were happy to have new carpet to play on until we filled the room back up with big sisters' stuff.
April
We finished the bedroom just in time for our daughter to come home with her new baby.  Mollie-Jayne was born on April 4th.  The boys absolutely adore her.
Another shop project was tin on the walls.  What a difference that has made! It is so much brighter in there! Eventually we plan on doing the ceiling. But for now it sure is nice having the walls done!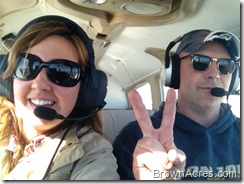 Mick and I had a 'date' flight with no kids.  A very rare occurrence in fact it may have been the 1st time.
May
Our friend Marty bought a Rottweiler pup.  His name is Peterbilt.
We also added a new family member.  We picked up a Sheltie out by Minot.  Her name is Sadie.  She's the puppy on the left. Her mom, Sophie is in the next pic with the boys. Sadie and Peterbilt are 1 day apart!
It must have been meant to be.  Our Sophie the Collie went missing October 6, 2012. I was thrilled to learn Sophie was the mom's name.
We love having Sadie. She's turned out to be a good dog.
We love checking fields on warm spring days! Peaches usually hops on the four wheeler anytime one leaves the yard.
I think Mick had more fun on the little dirt bike that day than Max did.
One of the combines ready to head out to Oklahoma for winter wheat harvest.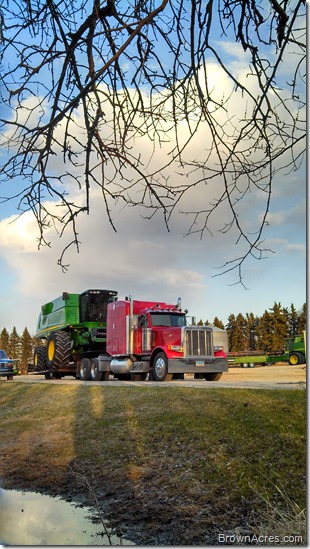 This guy showed up unexpectedly.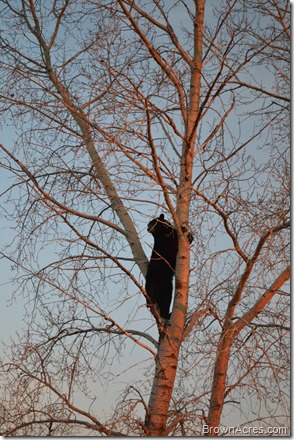 I was out walking on our runway at 5:30 a.m., just on the other side of our trees.  First I thought it was a moose then realized it was not when he started climbing the tree.  The dogs scared him up the tree and I headed for the tractor with my little pup who would not come up with me.  I called Mick on the 2-way radio in the tractor to bring my camera. He didn't even believe me when I said there is a bear on the runway.  Mick brought the 4 wheeler and the camera.  The bottom picture is how far the tractor was from the bear and those 1st trees to the right is our yard.  There were no tracks from him in the yard. But we were sure looking!  The bear looked at us like we should do something about the barking dogs.  It was a late spring and he probably came down from Canada looking for food. Of course, I never did get my walk in that day but sure got my adrenaline going!
This is another quilt I did for a friend of the family for her high school graduation.
June
The guys added a service box to a pickup for the field.  It sure comes in very handy.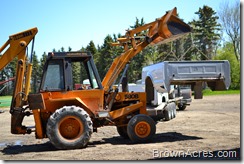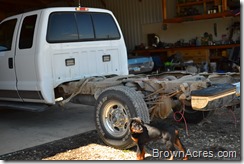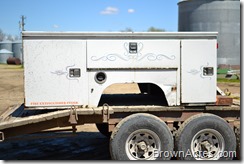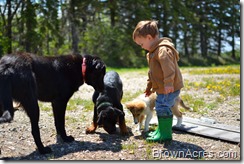 It was such a late spring this year. There was no way the garden was going to get planted with the moisture it had.   I had been wanting to add some more raised beds and was forced to make it happen this year.  I'm glad I did everything grew great in them!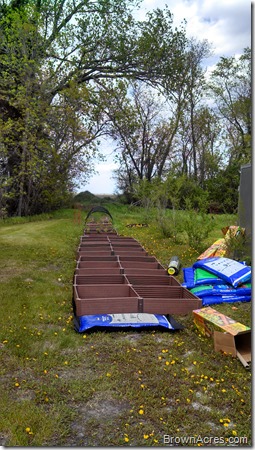 This was Mollie-Jayne's 1st supper in the field right before we left.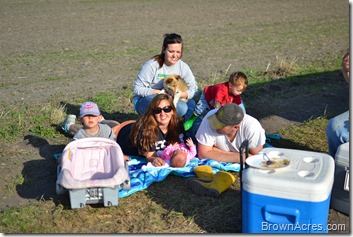 Sadie went for her 1st flight. It was a success!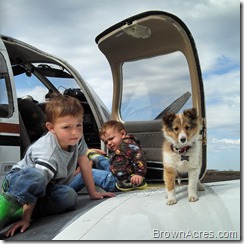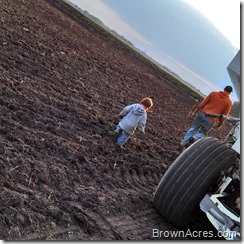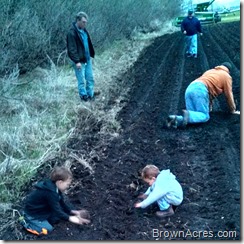 Checking for seed depth and spacing on some sweet corn we planted.  The corn that grew was the best corn we've ever had. However, the ground was too wet when it was planted so there wasn't much there. That's what happens when you rush things that you shouldn't. We will try again this year.
Soon we were on our way to Oklahoma for winter wheat harvest. We stayed in Pratt, KS on the way down.  We love staying there.  The Evergreen RV Park has laundry, cable, Wi-Fi, hotel rooms and a pool.  What more could you ask for? Time.  We had to keep moving so our stay was brief.
Before we knew it we were cutting winter wheat by Pond Creek, OK.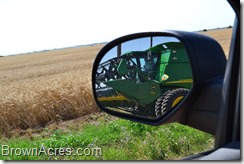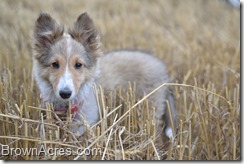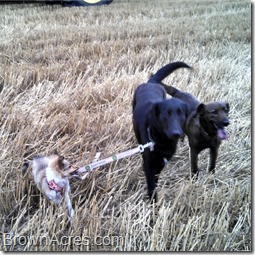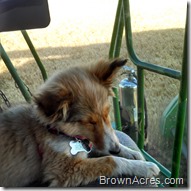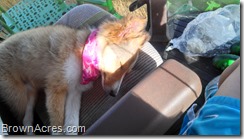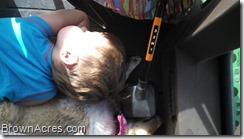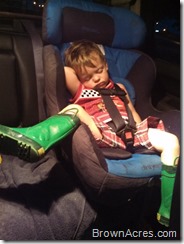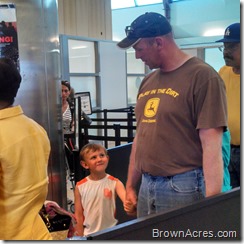 Mick and Max flew home to spray our crop when we had rain in the forecast.  Brett & Mom stayed back and drove combine.
July, August, September & October
We finished up in Oklahoma and worked our way north.  We went home for a little while and out to Montana for a few weeks. We moved back to North Dakota and harvested near Bismarck for a few weeks. Normally that wouldn't work well with our crop but it was such a late year for us.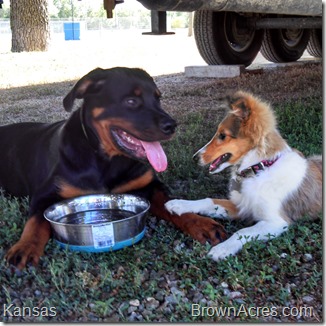 Sadie had to stop and smell the prairie roses along the road.
I ended up with a squash that had sprouted seeds inside.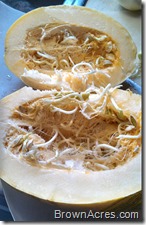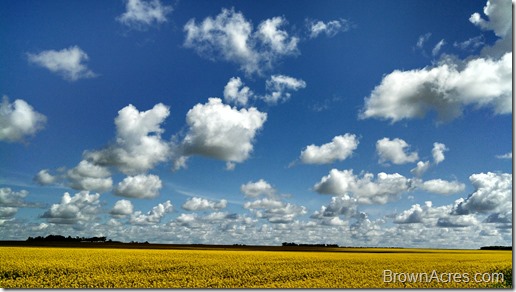 The canola bloom seemed to last all summer!  Those who grew it had a pretty good yield.
Our trip back to Montana.
We stopped by Medora on the way out to Montana.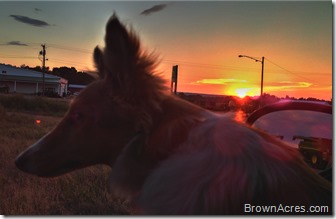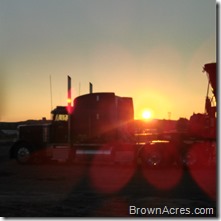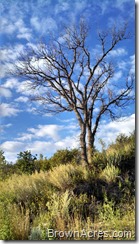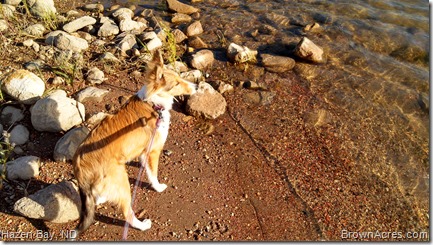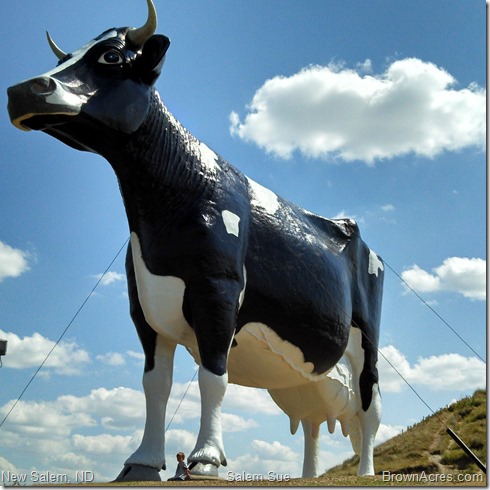 Brett is our cow guy.  He was so excited to meet Salem Sue.
We stayed at Hazen Bay for a couple days while the equipment was getting moved.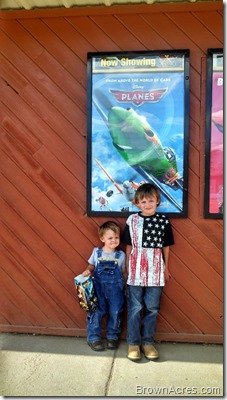 It worked out that I was able to take the boys to Planes on the debut.  We were staying near a small town and there wasn't even very many people there! I think we have probably seen the movie no less than 50 times since it came out on DVD.

Max started school so the boys and I were driving back & forth to the Bismarck area on the weekends. It was a 3-1/2 hour drive each way.  Thankfully we only had to do it a few times.
Sadie thought it was cooler under all the straw on the 90+° days near Bismarck, ND.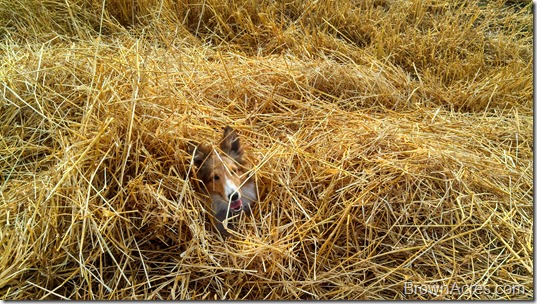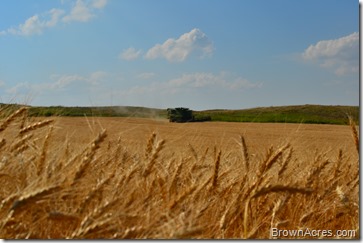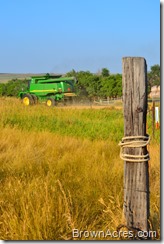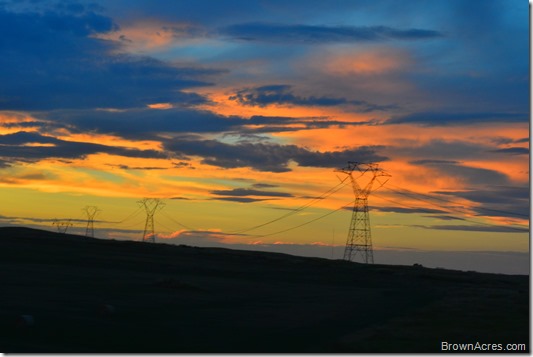 We finished up by Bismarck, ND and started our fall work at home.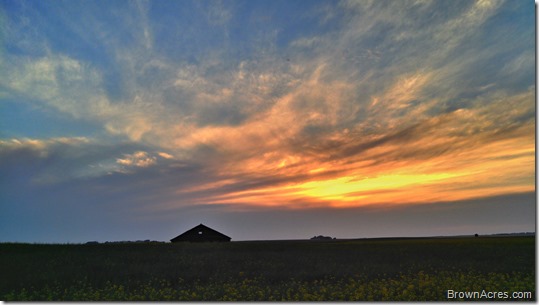 We planted winter wheat at home for the first time.  It usually doesn't work out with our harvest for us to get it in. Dad planted winter wheat while Mom & Brett cultivated.
I did quite a bit of canning this year. I tried some new spicy pickle recipes that turned out pretty good!  It's so hard to know if you're making a good pickle recipe since it takes weeks before the pickles are ready. This year the new recipes were good – last year I made some pretty disgusting relish & pickle recipes.  We froze a lot of corn & raspberries.  I made several batches of oven dried tomatoes too.  I baked them @175° – 200°F for about 12 hours.  They are so good in soups, salads, & casseroles – especially in the middle of winter!
I made these two baby quilts for the girls at St. Gianna's Maternity Home in Warsaw, ND.
They waited & waited & waited even longer. It seemed like eternity. They were waiting SO long to bring their combines to the field for harvest. Dad had them wait until it was time.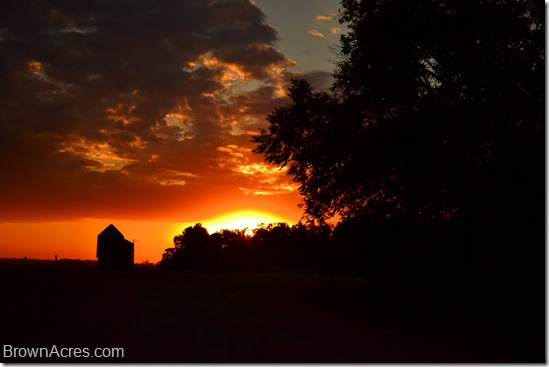 Brett spent days hauling around corn and 'combining' it.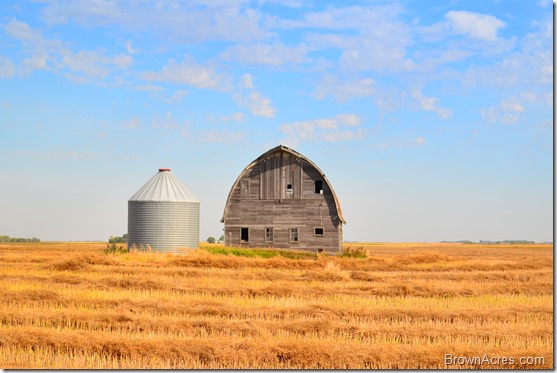 Saturday morning art.
Our cover crop of barley.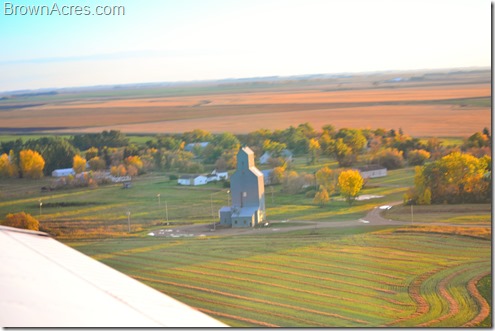 Hannah, ND
October
Out checking our beans.
Barley from our cover crop.  It would've been an excellent crop!
Custom Harvesting Canola by Hannah, ND
Mick and Marty checking for dropped canola. We straight cut canola for the first time, meaning it didn't get swathed first.  It's generally not done that way in our area but a lot more common in other parts of the country.  It worked great! We haven't grown canola for a few years.  The seed is expensive and it has to lay on the ground for weeks to dry out. We tend to have lots of wind which makes for a big mess, lower yields and a headache.  I think we've custom harvested canola every year since we quit growing it.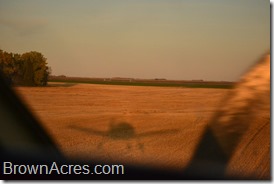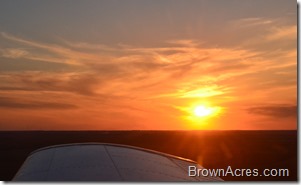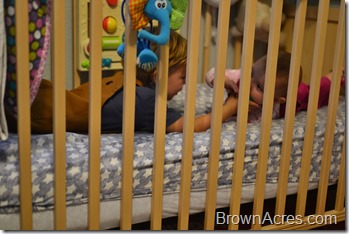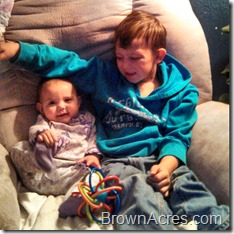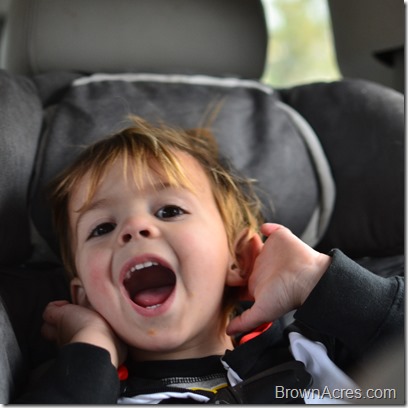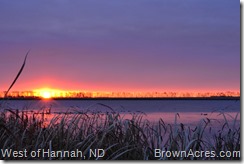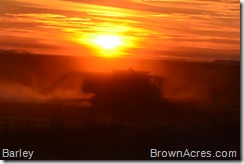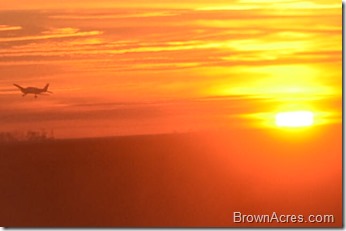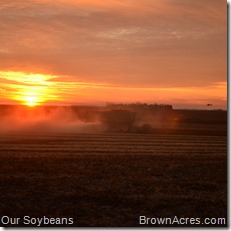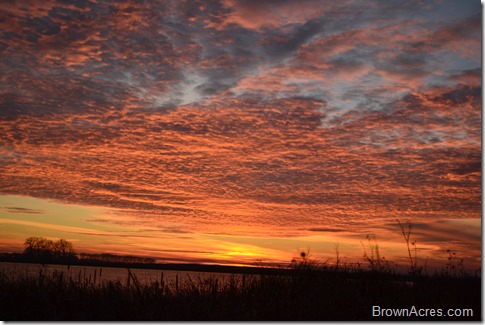 We planted some more apple and apricot trees. The deer or weather have a tendency to destroy them.  We've had to replace apple trees every year since we've been on the farm.
November & December
The snowy corn near Sarles, ND.
I made these quilts for Max & Brett.  They both picked out the colors.  I started in the camper down in Oklahoma & finished the binding for Brett's on Christmas Eve. They woke up covered in them on Christmas.
These are just tidbits from our crazy 2013.  I'm hoping to be blogging more actively in 2014 and not have to do such a big year end post.  These are the blessings & memories I want to save for our family it is our life on the farm. May you have a blessed 2014!