Once again I am behind on posting.  We finished up in South Dakota after a big rain break!  The spring was late and wet which means the majority of North Dakota will be harvesting at the same time this year.  We will harvest around home next!  We have lots of work lined up plus our own flax and beans.  It's always nice to have everything and everyone home!  It's so nice to have a shop, yard and house to work out of!  Plus it doesn't get as hot as everywhere we've been, although there are always the darn mosquitoes!  We've been a little bit of everywhere this week.  Seems like such a blur!  Here are some of my pics…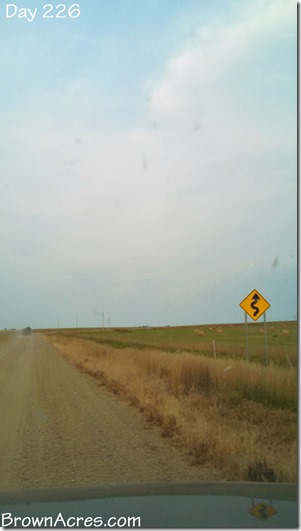 This sign in western South Dakota – what an understatement!  I am so glad we don't farm in hills like this! I think the sign is in the only flat spot! It's not just curvy, but also steep, narrow and rough!…at least we didn't come across any more rattlesnakes!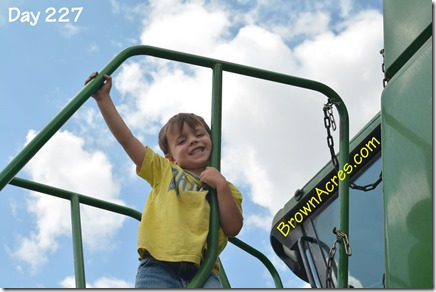 Brett spent the day hanging out with the combine.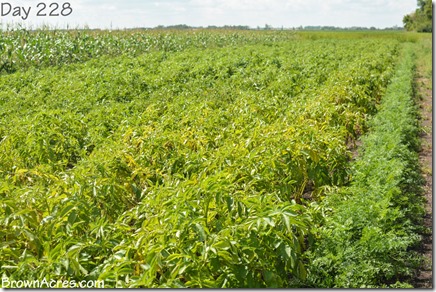 Our Honey Select sweet corn, Yukon Gold potatoes and Rainbow carrots at home.  Everything could really use a good drink.  Mick says "It's drier than a popcorn fart."  We've been dragging hoses, trying to get them to hang on.  Even after having water on all day, it's dry at 4″ down!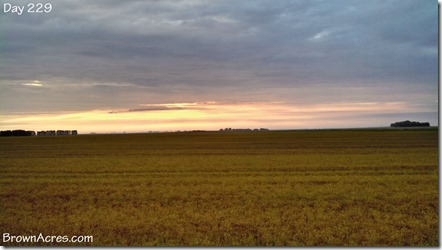 Our Gold flax really turned this week!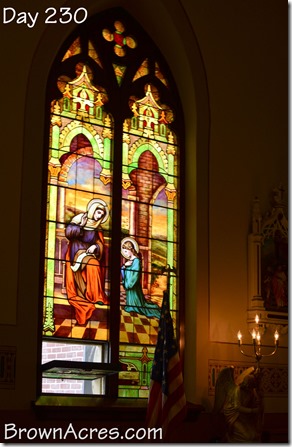 I took the kids to celebrate St. Peter's Catholic Church 100th Anniversary in Gentilly, MN on Sunday.  This is one of the many stained glass windows.  The windows have all been restored.  The church raised $50,000 for the restoration project.  They had the bricks cleaned, windows restored, clergy artists repainted the interior, the crosses on the exterior were taken down and refinished in gold.  The church was built in 1914 for $35,000.  The exterior is shown in last weeks post.  Here is a picture during construction.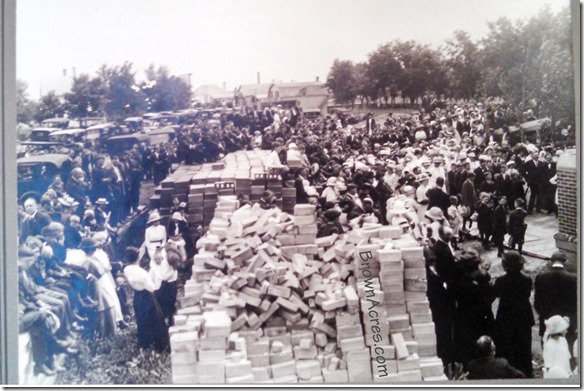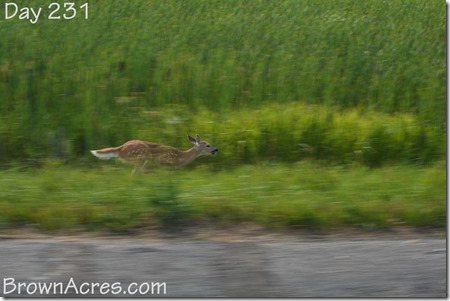 This little bambi ran next to us for a long time!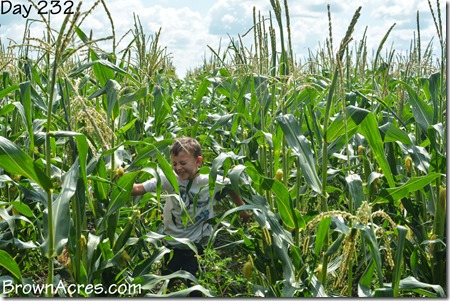 Max had fun running through our sweet corn patch.
Have a great week!
Erica 
For more information please visit the girls who sponsor Catch the Moment 365